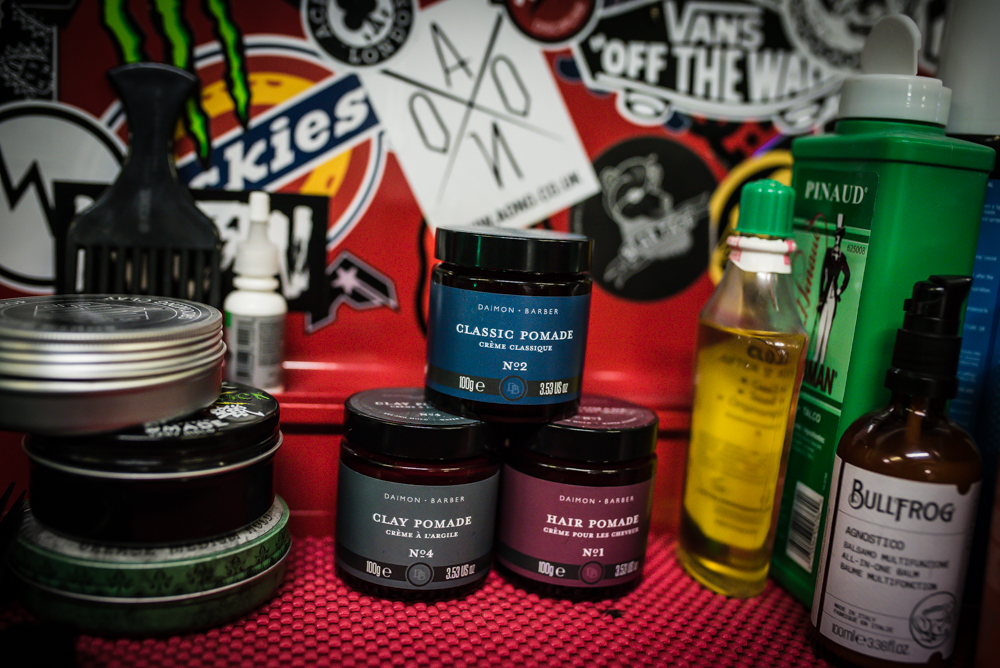 When you're a barber, if a hair product doesn't work, you move on to the next one. When you're Daimon Johnson, you mix your own and start a company. Such is the beginning of Daimon Barber, a London-based hair care line that has undoubtedly shown up on your Instagram feed if you're a pomade lover.
Daimon first hatched the idea when he was unhappy with the products available to him while working as a barber in London. Together with his brother, Leo Neelands, who was a Visual Effects Artist for a couple films (The Hobbit and Iron Man 3 – you may have heard of them?), Daimon created a line of natural, innovative pomades that worked. And of course, due to Leo's design background, the pomades looked good, too.
Today we are thrilled to speak with Leo about the importance of keeping manufacturing in the UK with local businesses that preserve artisanal craft, the company's recent journey into skincare, and how having a barber as one of the founders is extremely useful when testing out products!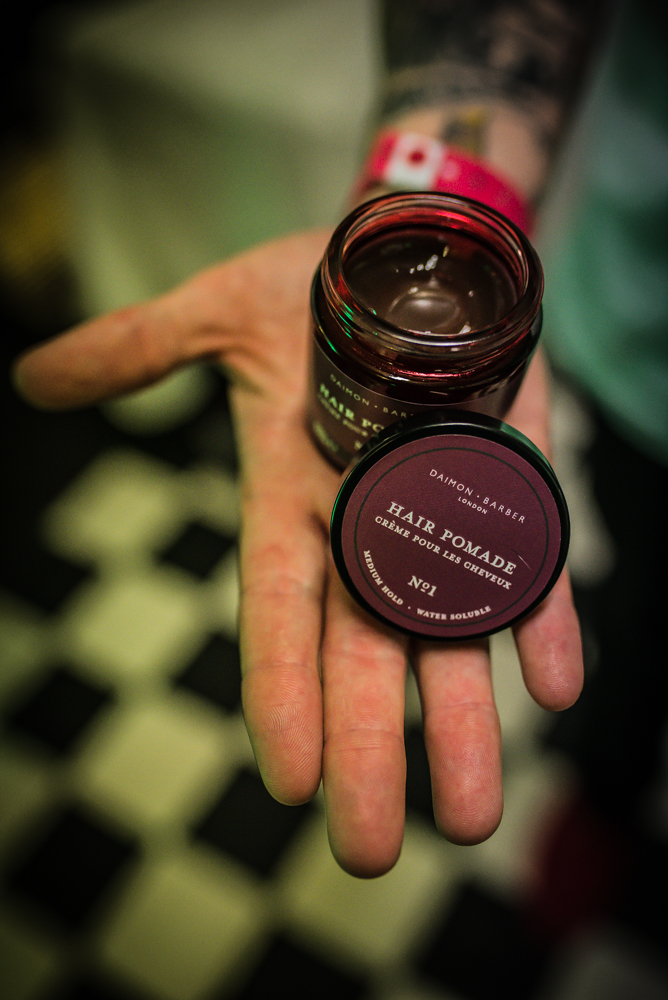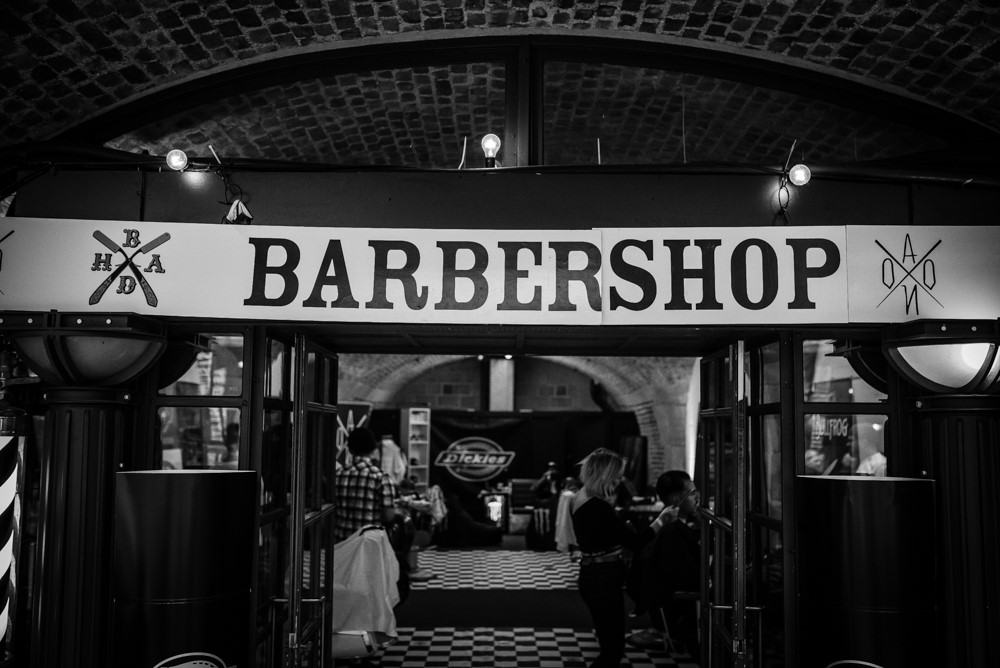 Where are you located?
We are scattered around the UK! We brewed our first pomade in London and have our HQ here. I live in London, too. Steve lives in the North East of England and that is where our Admin and Finance office is, but our brand manager is based in Warwickshire in the midlands, and Daimon is in New Zealand! So we have all bases covered!
When and why did you create Daimon Barber?
Daimon and I created Daimon Barber in 2013 after I returned from travelling and working in New Zealand on The Hobbit and Australia on Iron Man 3. I was a Visual Effects Artist before starting Daimon Barber. When I returned, Daimon was working as a barber in London. He was complaining about the quality of hair products on the market, so we decided to do some research and learn a bit about the ingredients and methods needed to brew a high-quality pomade.
I tried to find some unique ingredients that were natural and offered some kind of health benefit for the hair and scalp. We created a pomade that Daimon's clients seemed to love, so we tasked a formulist with creating a formula that could be up-scaled (and more importantly safe to use and compliant for international sale!).
We worked on creating a really beautiful and unique scent. Daimon had created a bit of a buzz on social media and we sold out of the first batch in a weekend. It just grew from there.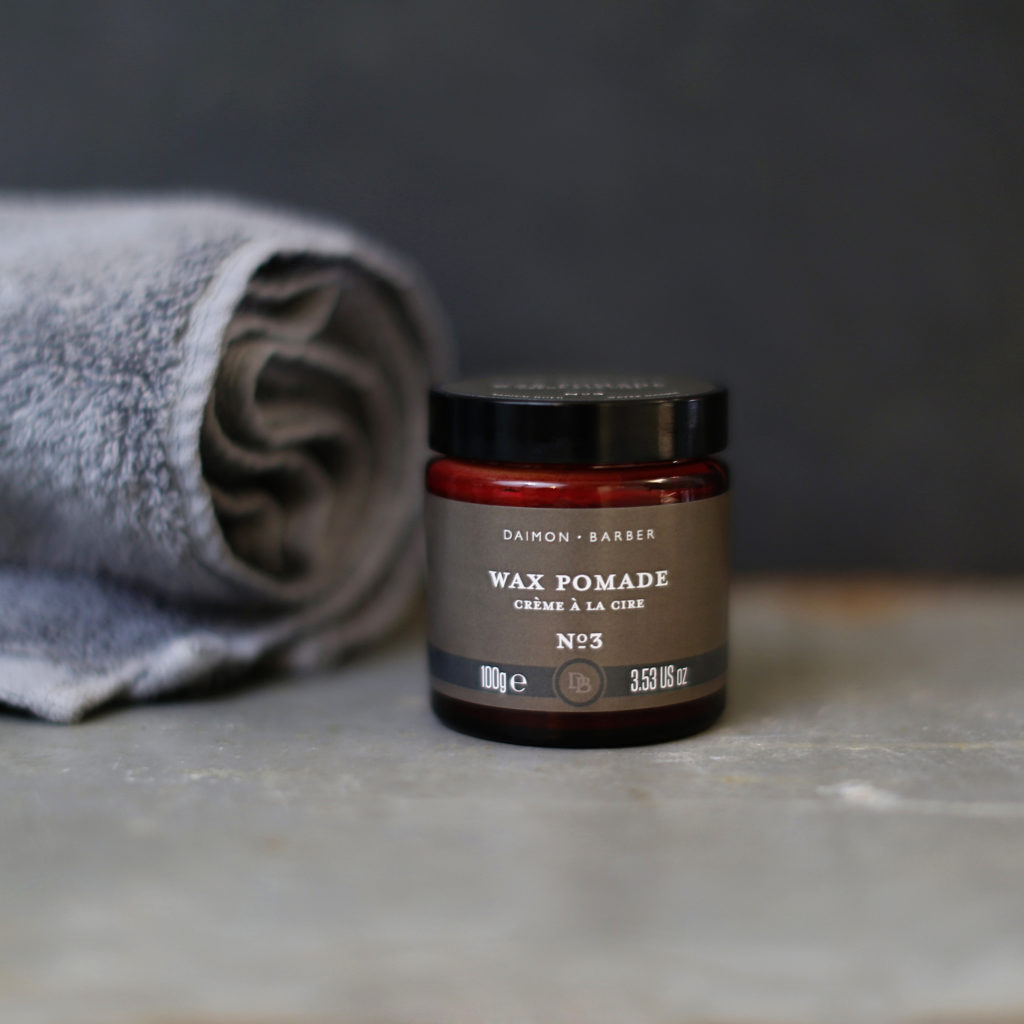 Both of you have backgrounds in design and classic barbering. How did that affect the products you created as well as how they looked?
With Daimon being a barber, we were able to road test every iteration during the formulation period of each styling product. This was invaluable, as it allowed us to constantly improve, tweak, and get real-time feedback on performance, scent, and benefits for the hair.
My experience meant that we had a professional approach to the design process. We had a really clear idea of how we wanted our brand to look very early on. When we launched our skin care and shave range we used the same approach, which meant we ended up with a very clean, clear brand image.
How did you come up with the name 'Daimon Barber'?
Daimon. Is a Barber. 😉
How important was it that you manufactured Daimon Barber products using only UK factories?
It was very important.  We brewed the first hair styling products ourselves, but we knew that as production scaled and became a logistical challenge, we didn't want to lose the artisanal way of working.  We wanted to work with local, small-scale manufacturers because they understand who we are as a brand and what our values are.
The whole process of product development – from formulation to eventual launch – is a collaborative one.  Every product is turned out just as we want it to be – just as the first one was when it was cooked up in the kitchen in Stoke Newington!
Recently you ventured outside of pomades, releasing men's shaving and skincare products. What made you decide to add these products to the mix?
Although we were born from the barbering and home-brewing scene, our real passion has always been innovative formulation – using interesting, unique ingredients. Ingredients that have a real benefit. Steve Crosby joined the team 2 years ago and brought a real energy to the brand. We both felt that we should take our passion for high-quality formulation and our love of fine fragrance and explore the possibility of creating a range for men that covered all areas of grooming.
We met our formulist, who is an amazingly clever man, and together we started looking into what was possible and what we wanted to create. Two years of work resulted in the new range of products, which we're so proud of. We're always formulating and have a range of the most incredible fine fragrances ready for launch in the near future (watch this space!) along with other exciting products in 2017.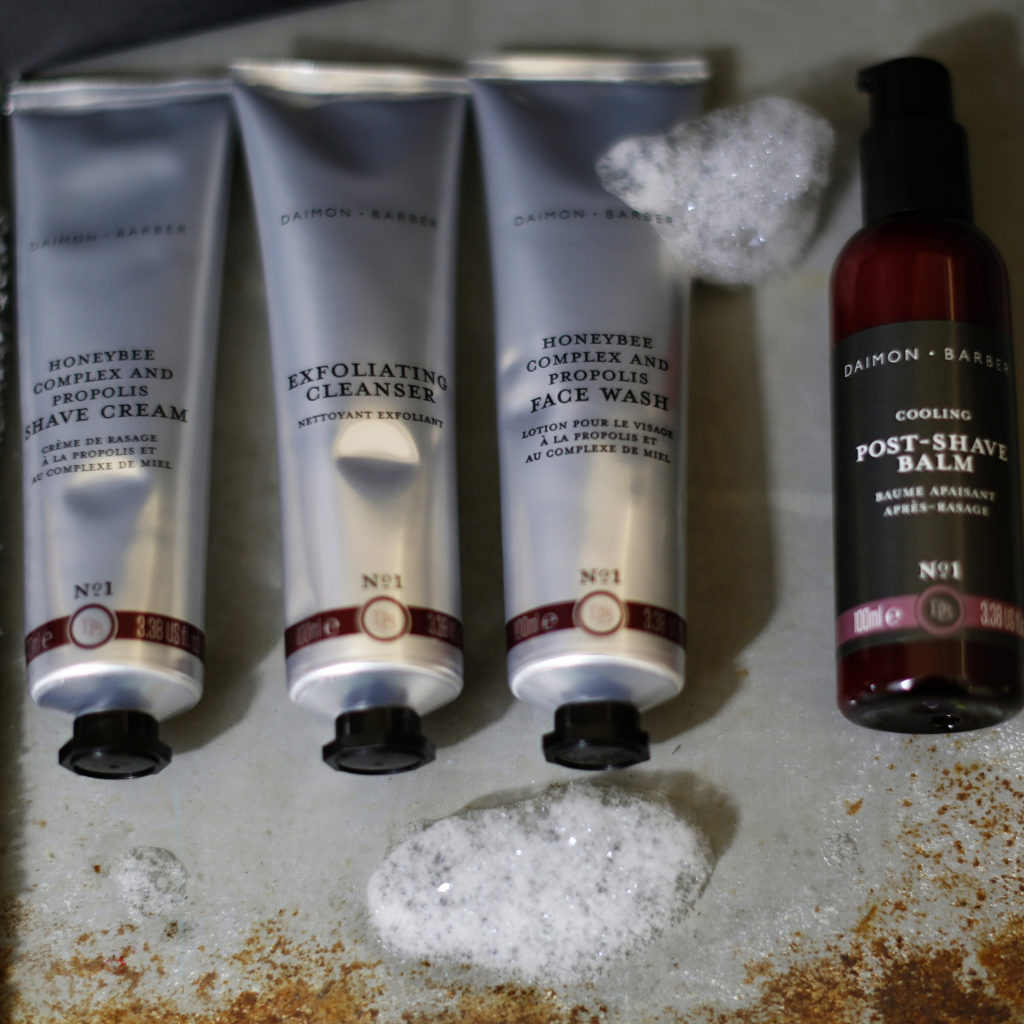 What do you think is one Daimon Barber product every guy should own and why?
Ha! That's tough to answer because we are very proud of everything that we have released and our products have all been developed in systems, so they complement one another!
If I had to recommend just one product, it would have to be the Protect and Restore Facial Concentrate.  It can be used as a moisturizing face oil in the morning and a restoring serum at night, but it is also the most amazing pre-shave oil.
It's very versatile and smells amazing. We've used a selection of very effective actives: Symrepair, which acts as a protective barrier to the skin, helping to protect from harmful UV and free radicals during the day, Ceramide complex, which helps to repair the skin at night, and Filagrinol, which is a natural, pollen-based ingredient that is the ultimate in natural skin moisturisation. It's a great product that I use every day without fail.
What's your biggest accomplishment so far as a business?
After the launch of our Shaving & Beard Care and Skincare ranges, we were featured in The Sunday Times by Beauty Editor India Knight; she's kind of royalty in terms of beauty press in the UK. She loved our products and said some very nice things about the brand. Almost simultaneously, we agreed to launch our products in all 8 Harvey Nichols stores…which in the UK is a really big deal. The Knightsbridge store is beautiful, so I would say that was the best period so far.
What do you have coming from Daimon Barber in the future?
Well I've already mentioned our fine fragrance range, which will be launching this year.  We also have some very exciting styling products in the pipe to extend our haircare offering, and a range of luxury body washes penned in for next year.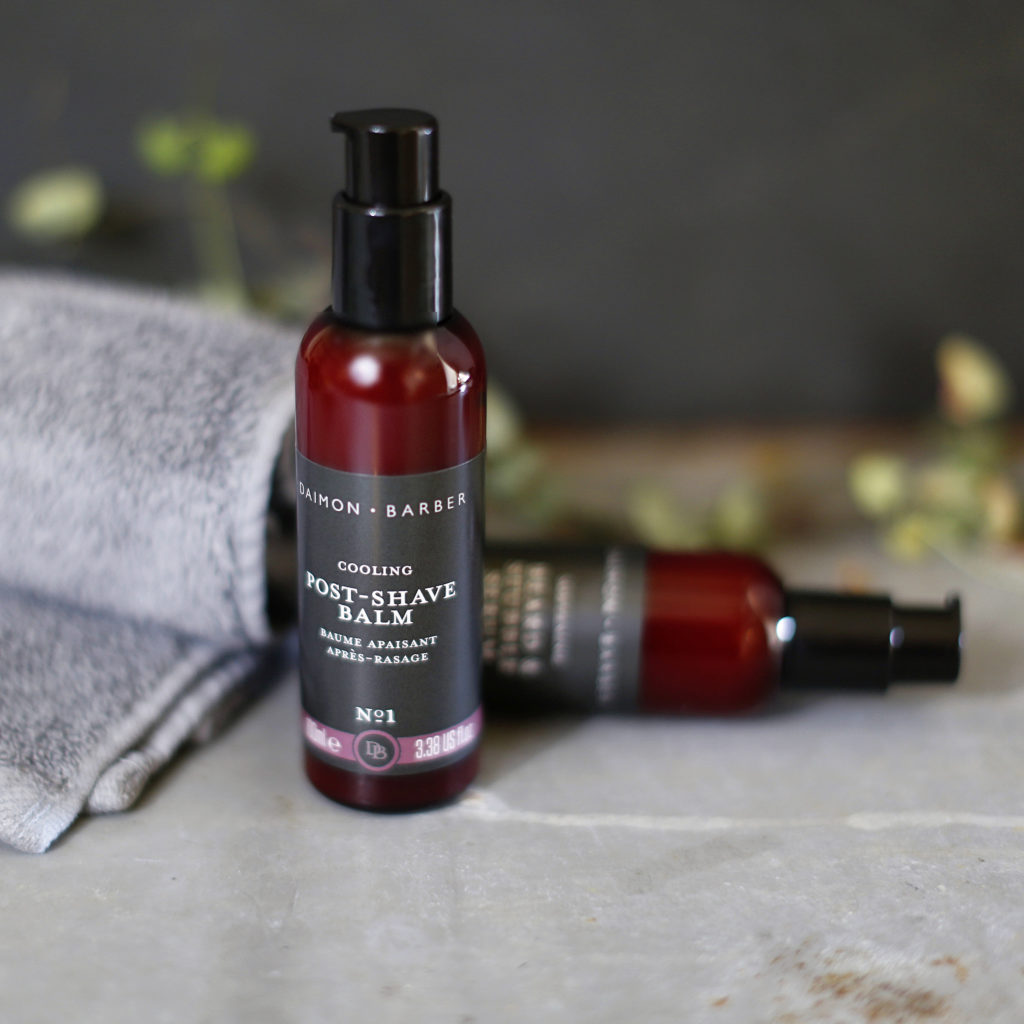 What's the best part of your job?
The variety. I can be discussing finance and business development one day and then will be sitting in a lab or a perfume house, mixing oils and smelling the most amazing blends the next. I haven't been bored since starting Daimon Barber. We also have an amazing team, with everyone equally committed to making the products and the company the best that they can be.  We are all friends and have a real laugh despite working very hard. It's a great working environment.
Where can readers find out more about your company?
Anyone who would like to know more about us and our products should follow us on Facebook, Instagram, or Twitter. If they go to our website at www.daimonbarber.co.uk they can sign up to receive our newsletter, where they'll get access to information on upcoming products, news on the brand, and information on exclusive offers. They can also check out our journal and read some great interviews with inspirational men from around the world.