If you've been considering long hair, now's the time to do it. While short hair will always be a mainstay, plenty of guys are opting for the free spirited, surfer-chic vibe of long hair. And with fall looming near, more hair on your head will indeed keep you warmer.
Achieving long hair requires some know-how when it comes to maintenance. After all, the process of growing it out is a commitment that can last a year and longer.
Below, we reveal everything you need to grow strong, long hair.
Prerequisites
Hair texture matters. While any guy can rock long hair, guys who have naturally straight or wavy hair have the best basis for length without too many strays and flyaways.
Let the top grow longer
When first growing out your hair, take note: the hair on the sides and back of your head grows faster than the hair on top, so until things even out you'll want to keep hair longer on top and shorter at the sides and back. This avoids a foray into mullet-like territory.
Make sure your sides are high and tight and you've got a couple inches of hair on top.
Be prepared for awkwardness
There comes a time during your hair-growing journey when your hair is no longer short enough to pass as just an overgrown haircut, but not long enough to pass for legit long hair. During this stage, your hair may poof out at the sides and create a bedhead look, and not in a good way. You may try to pull your hair back, only to realize that a couple random strands of hair are hanging around haphazardly around your face.
While this awkward stage is unavoidable, you can make yourself look presentable with some pomade. Pull your hair back and hold it in place with medium to strong hold pomade, like Suavecito Pomade. And eventually, those side poofs will get long enough to be pulled down by their own weight.
Otherwise, our best advice is just to be at peace with your hair as it sorts itself out. Remember that an epic head of hair is in sight.
Rethink your shampoo and conditioner routine
For all that long hair gives off a carefree attitude, it actually requires more time and maintenance than short hair.
Long hair is also more susceptible to damage. So if you typically throw on some shampoo every night when you step into the shower, it's time to rethink your routine. Overshampooing your hair will cause brittle, dry strands that break easily – the opposite of what you need for strong, long hair. So only shampoo 2 – 3 times a week, and when you do, look for products free of sulfates, like DR Harris Coconut Oil Shampoo. Sulfates strip your hair of natural oils that are vital for keeping hair smooth and shiny.
Condition every other day or daily to keep your follicles happy, paying extra attention to the ends, comprised of the oldest hair on your head.
After washing your hair, be very careful not to brush it when wet. While you may have been accustomed to running a comb through your hair when it was short, doing so on long hair is a no-no. You'll overstretch the follicle and make hair weak.
We actually have a blog post devoted specifically to how to tweak your shampooing and conditioning for optimal hair health – check it out here.
Deep condition once a week
Double up on the hair strengthening efforts with a deep conditioner like Amika Nourishing Mask, which seals split ends and improves elasticity and shine.
Be picky about your products
Avoid sulfates and styling products with alcohol (these are drying and cause a crunchy texture). We like ALTERNA Haircare CAVIAR Miracle Multiplying Volume Mist, which lightly holds your hair while proving lots of volume.
Remember to still get trims
The end goal is long hair, but that doesn't mean you can just skip seeing your hairstylist for a year. Make an appointment to get trims every 2 – 3 months. In the first few months, ask your stylist to keep the sides and back short.
The man bun is your friend
Long hair can be a pain to maintain. Any kind of weather – from rain to wind to dry heat – will mess with how your hair looks that day.
A man bun is the solution to getting up and out of the house in a fuss-free way.
Our product recommendations: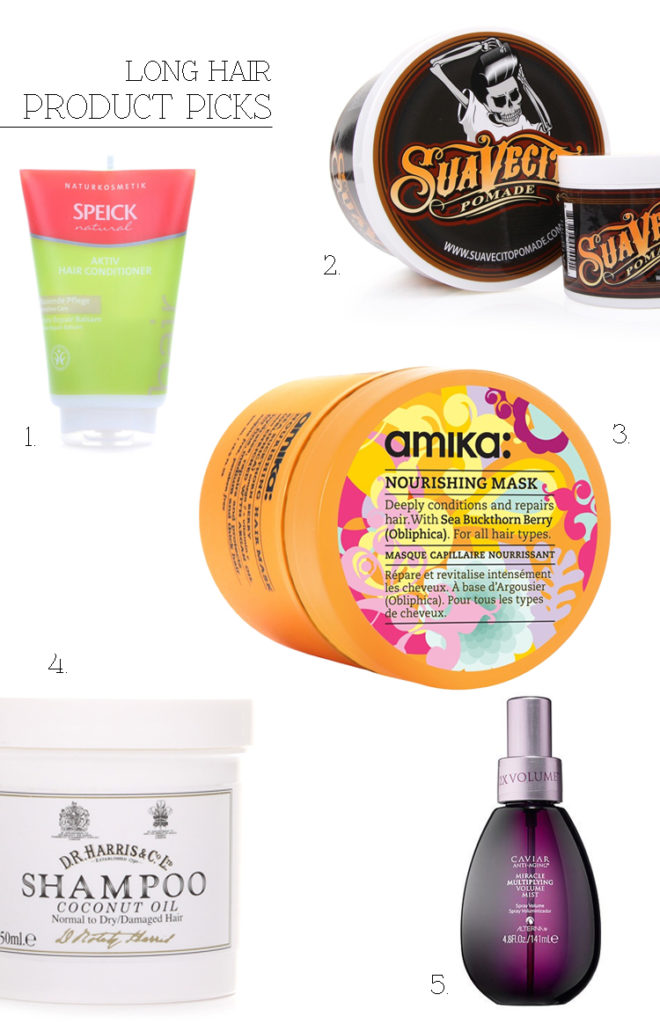 SHOP: 1. Speick Natural Intensive Repair Conditioner, 2. Suavecito Pomade, 3. Amika Nourishing Mask, 4. DR Harris Coconut Oil Shampoo, 5. ALTERNA Haircare CAVIAR Miracle Multiplying Volume Mist